Barcamp is back in Trivandrum. The 12th edition of barcampkerala will be held at technopark, Trivandrum on the 22nd of April 2012. I am a regular barcamper from barcampkerala-3 onwards. This time I decided to take one step forward by taking a session at barcampkerala.
I was searching for a suitable topic and finally decided to take something on social media in kerala. Social media is a buzzing word now a days and everyone is after social media marketing. I am trying to focus on the social effects of social media in Kerala.
My session will be titled – 'Kuriyedathu Thathri & Social Media'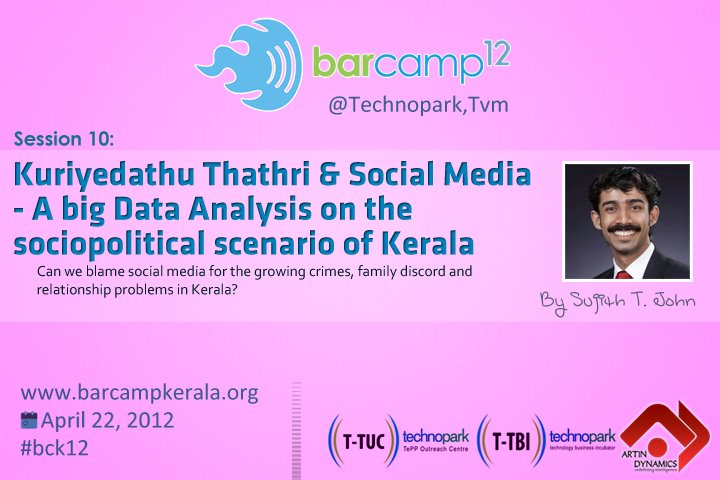 The inspiration behind this topic is a  paper presented on Social Media and Emerging Business Order accusing social media as the reason for every social evil in Kerala. The presenter was trying to prove that social media
Creates  cover and security for undesirable social relationships.

Has been the source of crime and domestic violence and divorces.
The core of  my presentation will be the search for one answer – Can we blame social media for the growing crime rates, family discord and relationship problems in Kerala ?
If you have any points that could help me in my presentation please add them in the comment section.
So see you all at Barcampkerala'12 , Technopark Trivandrum.