This movie inspired me to restart my movie review blogs 🙂 Left Right Left can be tagged as a political movie criticizing the present communist leadership in Kerala. The movie attracted the protest from the party leadership and they even managed to get it banned in the district of Kannur. There is a news spreading that party bought the movie to avoid its screening over television.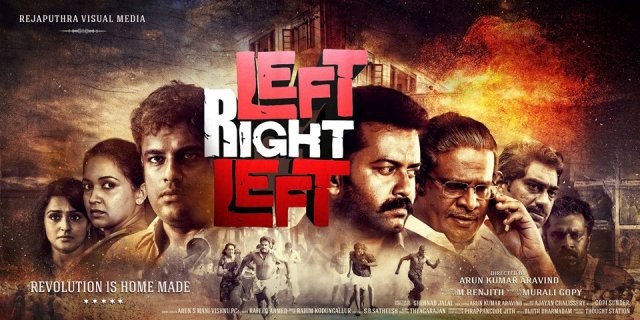 The movie revolves around 3 main characters – Kaitheri Sahadevan (crooked political play maker), Che guvera Roy (Murali gopi's true revolutionary communist) and Vattu Jayan ( a corrupted police officer). The movie try to convey its basic theme – "A man is part DNA, part unknown and part what he sees and goes through as a child" – through these 3 main characters.
The movie is not directly criticizing the Left revolutionary principles or the communist ideologies. Che Guvera Roy is a true revolutionary who lost his life through the political game plan of Kaitheri Sahadevan. Kaitheri is having the mannerisms of the present state secretrary of CPI (M) in Kerala. The movie reminds you the recent political incidents like T P Chandrashekaran murder, Lavlin Scam, Nurses strike etc..It also takes you through the infighting in the communist party. Vijayaraghavan's SR reminds you of the present Opposition leader in Kerala. Movie portrays both of them as selfish politicians with out any values.
The movie also attacks fake spiritual leaders and the business being run by selling spirituality. It silently speaks about the lack of sincerity in profession by the so called professional degree holders – be it doctors or engineers.
The movie drags a little in the middle, but have a good ending. The background score set up tone for the profound script by Murali Gopi. Indrajith's Vattu Jayan – the corrupted cop is definitely one of the best roles handled by him so far. If you are a movie buff and updated on the political happenings in Kerala, this movie is a must watch for you.