Diamond necklace is the story of an NRI Specialist doctor- his poor personal financial management and the problems associated with it. I went for the movie without much expectations as I had received reviews which were pointing towards two extremes. While some people gave excellent reviews for the movie portraying Fahad Fazil as the future of Malayalam cinema, there were others who gave totally negative review. See this funny pictorial review which appeared on one of my friends facebook wall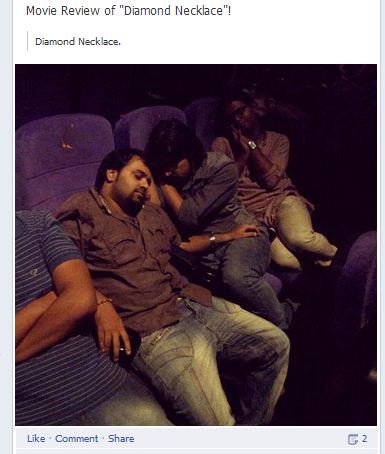 I went for the movie with an open mind…No prejudices, No assumptions…Just to enjoy a movie with friends and I will say I liked it. Fahad Fazil is getting typecast-ed as the Imran Hashmi of Malayalam with just another playboy character. The movie is totally different from other Lal Jose movies. The songs adds beauty to diamondnecklace 🙂
The  movie portrays the importance of personal financial management. Fahad plays the role of an NRI specialist doctor who gets into trouble with his poor personal financial planning. He leads a life of luxury with personal debt accumulated at one side. He gets into trouble by breaking the deadlines of his personal loan. The story unfolds when he resort to settle his debts by getting married expecting a huge dowry and get into more trouble.
Diamond Necklace is having a happy ending with all his financial problems settled. The movie also portrays two extremes of the life of a malayali in Gulf – life in a labor camp to life in a luxury apartment in Burj Khalifa. The financial discipline of an average NRI malayali and the luxury of NRI kochamma's.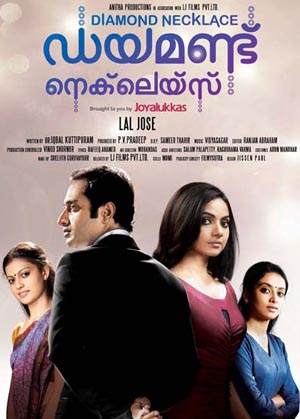 The movie stands different from other malayalam movies for utilizing the scope of in-film branding of Joy Alukkas. Joy Alukkas himself is appearing in the movie. In-film branding can be used as a great revenue model for the film industry. Lal jose successfully integrated in-film branding without affecting the story line.
PS : Inspired from the movie, Personal Finance Management should be made a compulsory subject in all Medical Colleges 😉
My Rating : 6/10
Theatre : Padma Cinemas